Photographers in Mallorca gastronomy
Wineries Suau Hidden Kitchen Chefs(in)
First of all, I'm going to tell you what a Hidden kitchen is:
Hidden Kitchen is the concept of a lunch or dinner that one or more Chefsin chefs prepare exclusively for you and a small number of guests in a secret place that will not be revealed until the last minute. The only thing we can give you in advance is that it won't be in a restaurant.
Each Hidden Kitchen is unique, and goes beyond just sitting at the table and tasting the menu the chef has prepared. It is an activity that, of course, revolves around gastronomy, but that incorporates other surprises designed specifically for each event.
This Hidden kitchen was organized by the company Chefs(in), I can tell you that it takes care of even the smallest detail and originality.
The chef who we had the privilege of tasting his dishes was Tomeu Lassio.
With restaurant in Calle Guillem Santandreu 38, 07360 Lloseta, Mallorca, Spain.
I'll tell you all about it from the beginning:
First, they are picked up at a place and then taken to where the event will be held.
In this case, it was in a very special place ,Bodegas Suau".
Matías Iriarte, the Brand Ambassador of Bodega Suau (Bar Manager of Ginbo and Chapeau 1987), was waiting for them on their arrival.
He explained to us in detail the entire history of the winery from its beginnings in 1851 to the present day.
Firstly, we started with a cocktail made by Borja Triñanes, (Bartender de Chapeau 1987), "Falso Sazerac de Suau 25 and herbs".
This cocktail was accompanied by Bordeaux Soup.
Then we moved on to another, even more peculiar place.
After going through a tunnel of about 50 meters we reached a tower of about 30 meters high.
There they tasted a bottled cocktail "Sidecar Mediterraneo with thyme and rosemary" together with "Horse mackerel with sobrasada and vinegar".
In the next spot, we were able to taste a gin and tonic (undoubtedly the best I have ever tasted) made with Suau gin, caviar with spicy oil and Sóller oranges.
This was accompanied by "Eggplant caviar".
Fotógrafos en Mallorca gastronomía Bodegas Suau Hidden Kitchen Chefs(in)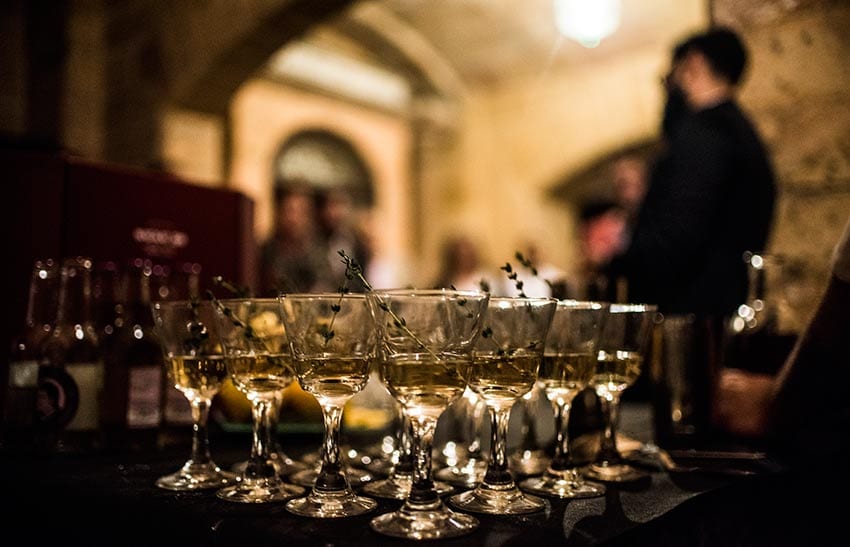 En primer lugar os voy a contar lo que es un "Hidden kitchen": Hidden Kitchen es el concepto de "cocina escondida", una comida o cena que uno o varios chefs de Chefsin preparan de manera exclusiva para ti y un número reducido de comensales en un lugar secreto que no te desvelaremos hasta el último minuto. Lo único que te podemos adelantar es que no será en un restaurante. Cada Hidden Kitchen es irrepetible, y va más allá de sentarse en la mesa a degustar el menú que el chef ha preparado. Es una actividad que, por supuesto, gira alrededor de la gastronomía, pero que incorpora otras sorpresas diseñadas expresamente para cada evento. Este Hidden kitchen lo organizaba la empresa Chefs(in), os puedo decir que cuida hasta el más mínimo detalle y originalidad. El chef que tuvimos el privilegio de degustar sus platos fue 
Tomeu Lassio
. Con restaurante en Calle Guillem Santandreu 38, 07360 Lloseta, Mallorca, España. Os voy a contar todo desde el comienzo: Primero, les van a buscar a un punto de recogida y seguidamente les llevan al lugar donde se va a realizar el evento. En este caso, fue en un lugar especial donde los haya, "Bodegas Suau". A su llegada les esperaba Matías Iriarte, es el Brand Ambassador de Bodega Suau (Bar Manager de Ginbo y Chapeau 1987) Él nos explicó al detalle toda la historia de la bodega desde sus comienzos en 1851 hasta el día de hoy. Primeramente, comenzamos con un coctel realizado por Borja Triñanes, (Bartender de Chapeau 1987), "Falso Sazerac de Suau 25 y hierbas".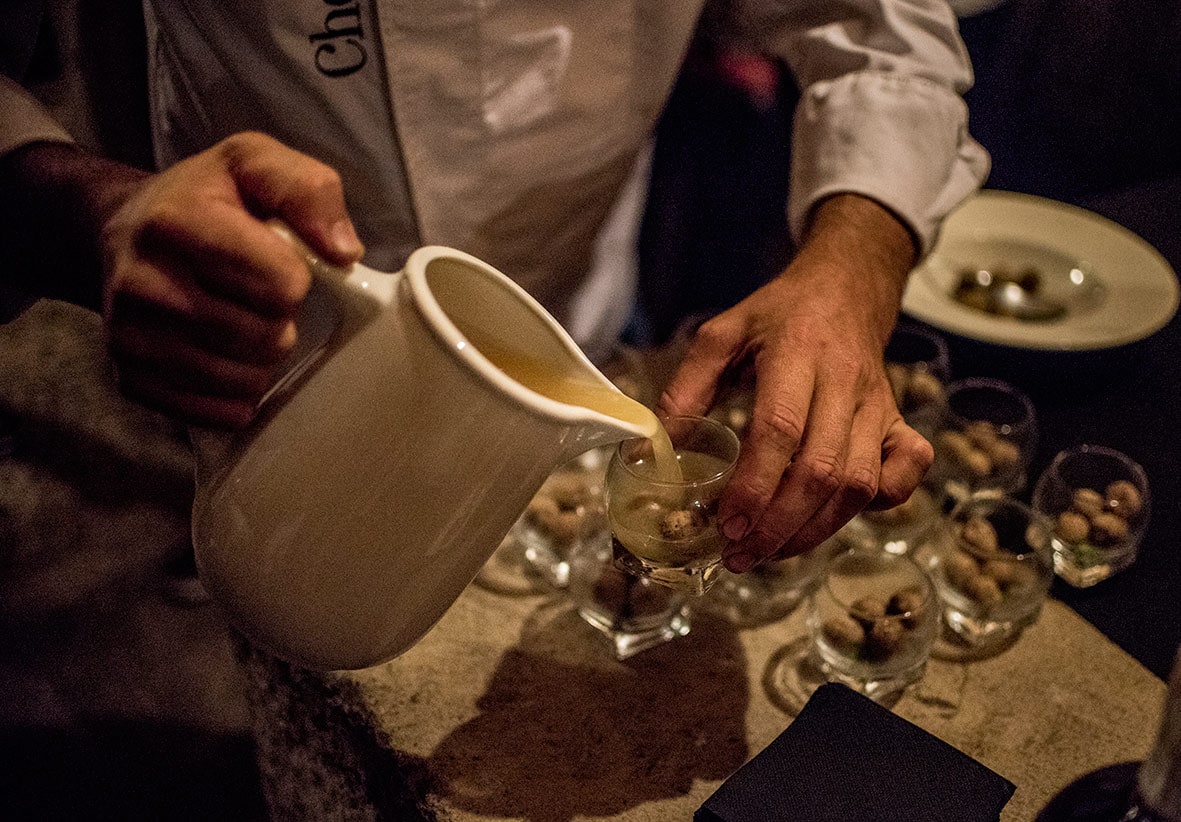 Before we finished we moved to
the dining room area, this spacious room with exquisite decoration is incredible.
Here we tasted the following dishes:
Snail fried
Menjar blanc de lobster
Heus* Blanc
Fideus poblers
Vintage Lampuga
Heus* R daring
Cheeses from the Balearic Islands
Orange catfish with Brandy Suau ice cream
Pork cheeks with sweet potatoes and plums
Memories of Biniagual Negre 2013
The wine pairing was prepared by Vinamica.
The furniture, kitchen and household goods are from the company Jaiak Tendencias & Diseño.
Finally, we went to a chill out room to enjoy some cocktails.
Petit Fours | Gin Tonic Suau – Suau 50 – Mai-thai Mallorcan style
Marabans Coffee & Tea.
As a photographer in Mallorca, I can tell you that I love taking this kind of photographs.
Photographers in Mallorca gastronomy