Photographers in Palma de Mallorca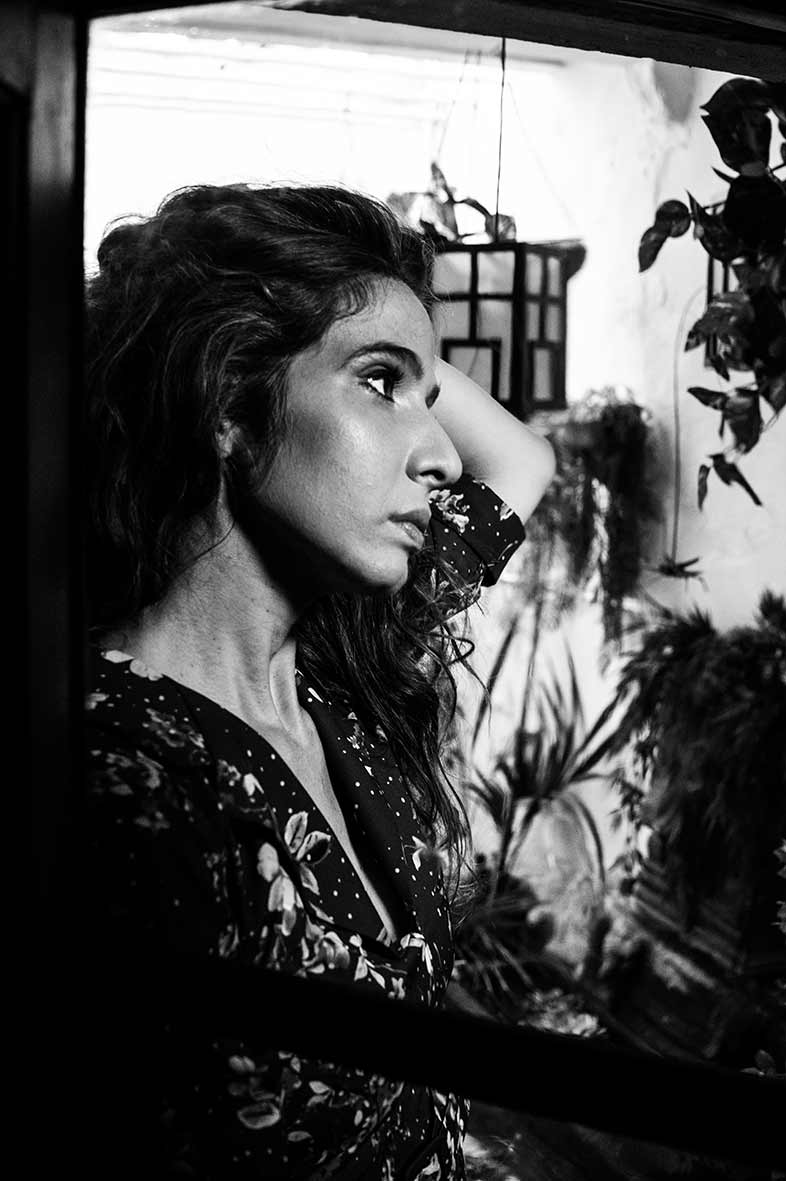 First of all, as a photographer I love all the challenges I can get. Further more I try to get everything I can out of every opportunity I'm offered. Sometimes, for example, there are photo shoots where I enjoy a lot and this was one of them.
It was going to be on a Sunday in August at the Carlos Martin Hairdressers' Salon. In fact it could not be a better place as it is perfectly decorated by the artist Juanjo Castillo. As a beauty salon, every day it offers its clients an unbeatable service.
Without a doubt, because the professionalism of Carlos Martin and his assistants he is one of the best in Mallorca.
I am fortunate enough to be included too among his regular customers.
However who hasn't entered doesn't know the special and original decoration that the salon has. So when he offered it to us for this session we didn't hesitate and we loved the idea.
Because of that it was going to be a very special day full of art. The model was Mar Campos, one of the best contraltos in this country and equally important a friend of mine.
She  wanted me to take some artistic photos full of her personality and further more use them in her profession. Mar is known as a great singer but she has also  definitely a great personality and I wanted to reflect all that…
When we entered the salon, Carlos Martin was already giving her the final makeup touches. The hairstyle had already been done and it was natural, casual and elegant. Whats more It couldn't be better, since he knew her perfectly.
On the other hand ,the makeup was rather light and modern. That's why he highlighted her eyes and mouth so important parts of her beauty.
For the wardrobe Mar had brought several dresses in different shades.  Everything would go without a doubt very well with the environment. The colors of the salon were in fact so beautiful all chosen by the good taste of Juanjo Castillo.
First of all we started in the lounge.It is definitly very well prepared, customers can have a coffee while they wait and read the latest magazines. There's an art-deco-like closet that gave us a wonderful background.
First Mar sat in front of it on a stool and with a stripe trouser and a yellow blouse she prepared. Immediately between the poses I was suggesting and the skill she has, everything definitly began to flow. I after all essentially like to get the most out of each person I photograph. With a gesture I get them to make or a hand placed in a certain way they show me their personality. With Mar we basically got this in a minute. Her naturalness  knowing how to pose and yet her charisma  looking at the camera brought out the best in me.
When we finished in the lounge we went to the part of the barbershop. Again we had the help of Carlos Martin who did retouched the hairstyle of Mar in a masterful way.And then I wanted to photograph her in an original way sitting on the barber armchair.
Meanwhile I played with the mirror in front of her and the painting that was hanging behind. It is painted by Juanjo Castillo himself, definitly a spectacular oil painting. Later it came out at an angle that I really liked. Mar also knew how to incorporate all the sensuality that she treasures, making an interesting contrast with the place.
After all that we moved on to the bottom room . Several lamps and mirrors gave us again the right change of scenery. We finished these photos and next we went to the small lounge that is upstairs.
We took advantage of the Versailles-style sofa.  There was definitely a contrast with the typical Mallorca balcony that all photographers in Mallorca like so much.This way  we obviously created two environments.
Without a doubt some poses lying on the sofa in a spectacular red dress , immediately enchanted us. Definitely Mar has dance inside her.She showed it by dancing in front of the curtains with those arms so expressive and full of art in every movement.
Once those indoor pictures were taken, I went out into the street .And then ,made her come out to the balcony railings. Meanwhile we had agreed that she would dress in a black American jacket.
I photographed her from the street in a different way. In fact the contrast  of the balcony windows with the sobriety of the jacket and her elegant face was beautiful.
A look and an expression were enough to give me the picture I wanted to take of her. I am very aware of what I want and I do it quickly, which always benefits me in sessions like this.
When I went back inside, next we picked again another wardrobe change. Mar had a country flower dress perfect for the inner courtyard. Carlos Martin and Juanjo Castillo have created a very nice little garden in still a small space. It gave us a lot of play.
I was able to take through the window some pictures.She again showed the art she has in every movement she makes. However color and light were special in each photo as well.
With these pictures already finished, next I took advantage of the wall in one of the living rooms. I was able in fact to get a few close-ups of Mar. By playing with the black wall and the light we got great shots.
This way in conclussion we finished the sesión hugging each other and really happy.
Thanks to Carlos Martin and Juanjo Castillo for letting us use their beautiful Salon. Their art is in every corner of it.
Thanks aswell to Mar for trusting me and for being so wonderful.
Photographers in Palma de Mallorca