Photoshoot to pregnant women in Mallorca
These days we are getting a lot of calls requesting photo sessions. It's something I love to do with both adults and children. There are many who want to be models and need a book to present to modeling agencies. Others want a souvenir of this time in their lives. A fortnight ago Lourdes called me asking me for something special, she told me that she would like to have a photo session to pregnant women in Mallorca. I was very excited because it has been a long time since I had that opportunity and it is something different and special.
By phone we arranged to meet in a few days when the weather was good. She really wanted to have some different photos that would be a good souvenir of these days. She is eight and a half months pregnant, so she is not far away from being a mum and having an incredible experience.
Outdoor photo session
We met in a place that I really like in Mallorca. It's special and I wanted this photo session to pregnant women in Mallorca to be there. At first Lourdes was going to come alone but then her boyfriend decided to come with her.
When we saw each other I immediately thought they were a super cute couple. I was glad he had come because I could tell it was going to be a really cool session with both of them. He apparently wanted to go spearfishing so he brought all the equipment with him, even the wetsuit.
We went through the part of the forest where it crossed to go to where I wanted the photo session to pregnant woman in Mallorca to be. Suddenly in a very beautiful part the light was brutal, we left everything on the ground and I started to take pictures of the two of them.
While they were getting into the situation, which is never easy being in front of a camera, I asked them questions. I was curious to know how they had met and the answer was funny. They are both from Valencia and it seems that at that time Lourdes had an garden where she grew avocados and was very proud of it. When they met, he found it interesting or thought it was interesting and paid attention to it. This of course had an effect on Lourdes, things got off to a good start and here we are.
Embarazada e investigadora
Another curious thing about Lourdes is that she is a maternity nurse and she is preparing an investigation on how Covid affects pregnant women. It seems incredible to me to do this in these scary times we live in and, of course, when she is pregnant.
This photo session to pregnant women in Mallorca was being very interesting. Another detail they told us was that they wanted the child to be called Benjamin because it is going to be a boy. The father's name is Benjamin and it is a name that they both like, although it was not completely decided. They had another story on this topic and it was fun to listen to them talking to each other.
After crossing the forest we arrived at the rocky area and the sea where I wanted to do the session. I could already see him wanting to put on his wetsuit to get into the water because it is a spectacular place. I wanted to take advantage of him a little bit more and take pictures together in different places where the rocks were.
He listened to me and I tried to be as quick as possible so that he could take advantage of the little bit of daylight he was going to have to get into the cold water. Because it's March and well, during the day it's sometimes hot depending on the weather, but getting into the water is something else, no matter how much neoprene there is.
Woman with personality
After shooting them together I took Lourdes and took her to different places. She was open to all kinds of different photos. When she called me she knew that I'm not the typical photographer who poses like this and poses like that, that' s why she also called me of course. She wanted something different and although she had several wardrobe changes we used very little clothing. This photo session to a pregnant woman in Mallorca turned out to be very natural and special.
Apart from being pregnant I wanted to show her as a woman and not only as a mother-to-be. She herself told me that it was curious how since she was pregnant everyone treated her differently and that this didn't suit her. She is a strong woman with a lot of personality, so I wanted photos that showed that.
As the sun went down the sunset was super beautiful. Benjamin could be seen with his snorkel circling and slowly approaching the shore. When he came out I tried once again to get him to join us so we could take some final photos with the two of them together. The poor guy was shivering from the cold, he was all wet and the truth is that he didn't protest too much and let himself go. We were very lucky in this photo session for pregnant women in Mallorca with this couple.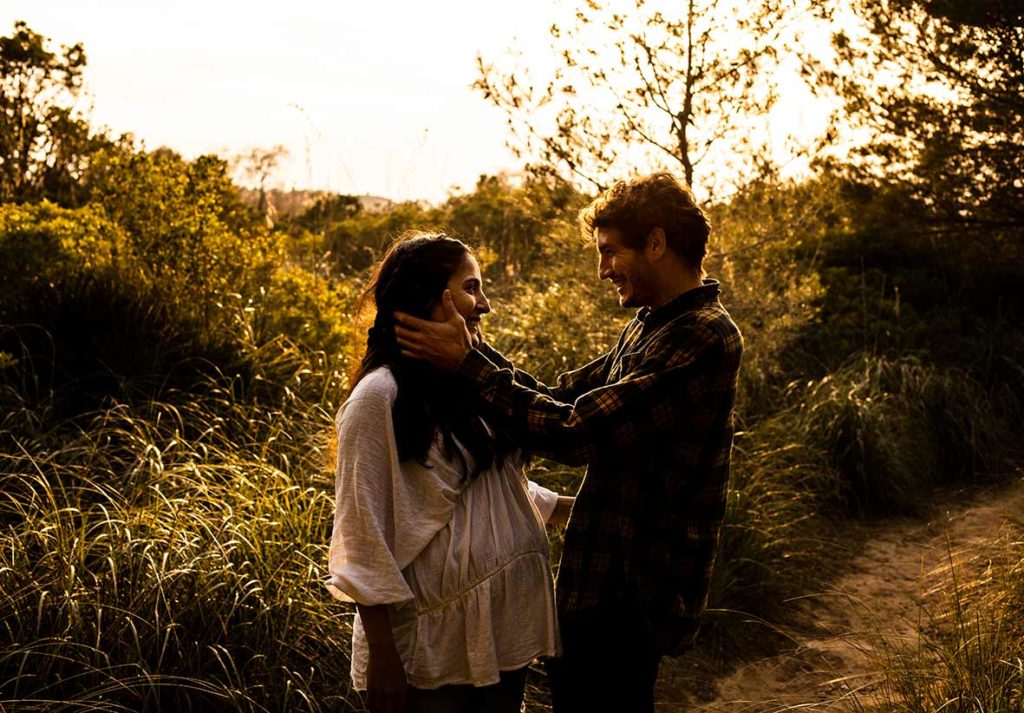 We took advantage until the last moment and seeing that there was no light left we ended the session and went back to the cars. I thank them for having trusted me and I hope everything goes well, I'm sure they will be super parents. It was lovely to meet them and I'm sure we'll see each other for a few beers in the future.
Photo session to pregnant woman in Mallorca