The best fincas in Mallorca
This year we are going to have some incredible weddings in dream locations. One of the best things about Mallorca is undoubtedly the quality. It is very difficult to decide which are the best fincas in Mallorca. That's why we are going to show you a few of them where we had magical weddings last year. There will be some very top ones left out but as a wedding photographer in Mallorca I assure you that you will be right with them.
One of the best fincas in Mallorca that I love is Finca Comassema. It is located in the beautiful Orient Valley right in the Tramuntana Mountains. To get there you will pass through beautiful landscapes and you will think you are walking into a movie. It is an estate with centuries of history as it dates back to the 13th century. When you enter its various settings you will fall in love with it without a doubt. In the area of the cloister where the ceremony takes place, it seems that you are in Tuscany because of the architecture and the ivy that climbs up the walls. At the same time, the lake area where the aperitif takes place is very elegant and romantic. The space where the banquet is held with its wonderful lawn and lights are an incomparable setting for the celebration.
I have been lucky enough to have weddings at Finca Comassema and it is always a place I recommend to my couples. This past year I had for example Kate and Dorian there. It was one of the most entertaining weddings I have ever had and the bride and groom had a great time. As there were so many different spaces I was able to take all kinds of photos. With the Amida group organising and directing everything it was without a doubt a perfect wedding. We will be there again this year and I'm sure it will be incredibly magical.
Another of the best fincas in Mallorca is Finca Las Barracas. It is located only 20 kilometres from Palma. It has 1.000 hectares of land and has incredible views of the Tramuntana mountains. Although it is so close to everything it is situated in a totally secluded area which gives maximum privacy. Last year we had the wedding of Maria and Nico. She is half Mexican-German and he is German. They live in Switzerland and decided to get married here in Mallorca. They had the great wedding planners Juliet's who helped them with everything and they chose Finca Las Barracas.
Guests came from all over the world for their wedding and it was certainly unforgettable. The ceremony took place in a part of the gardens decorated by A Di Amore Flores with exquisite taste. Then the aperitif was in the pool area where everyone enjoyed the sun of Mallorca in July. The dinner was organised in the claustra area with La Alacena as caterer. During the banquet the bride brought some mariachis who made a great party with their music. It has been one of the weddings where I have enjoyed the most and where the guests have had the best time. I always recommend live music at weddings because people get excited, dance and enjoy themselves.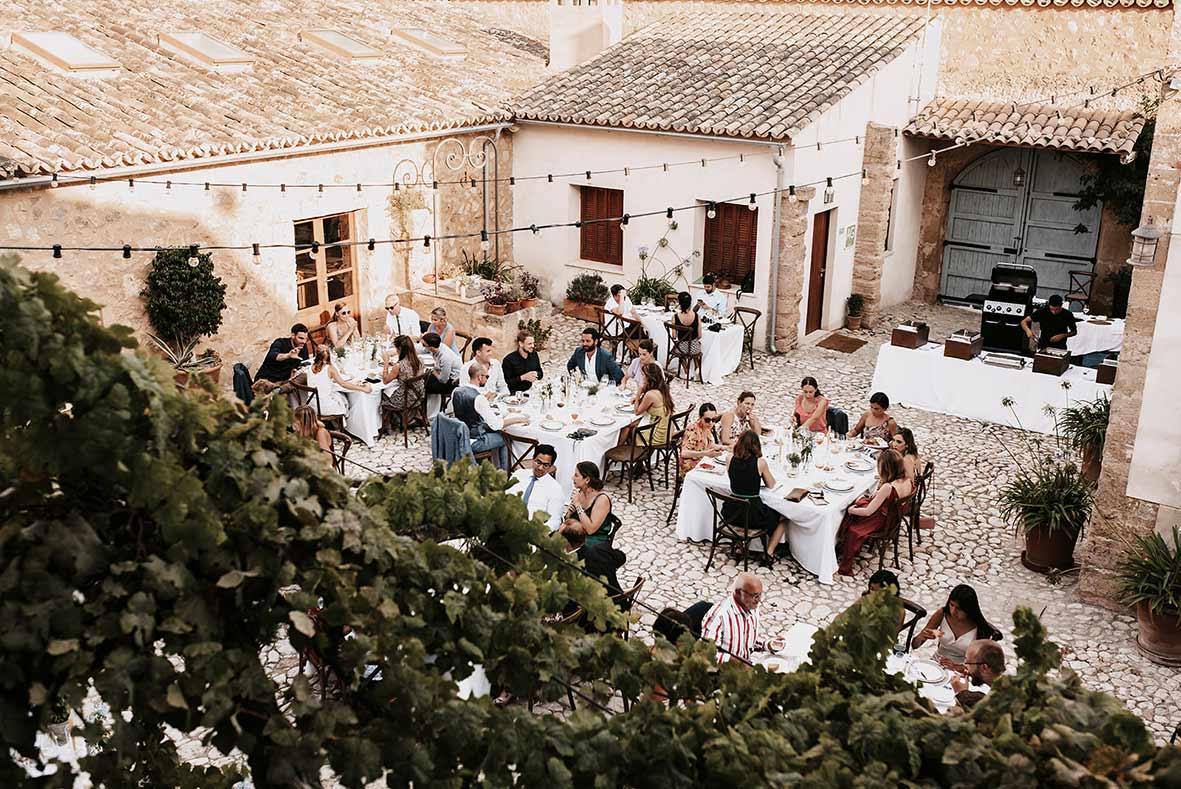 Another of the best fincas in Mallorca is Finca Son Berga. Last year we were lucky enough to celebrate the wedding of Eli and Patri there. It is undoubtedly one of the best known Fincas due to its views. Finca Son Berga dates back to 1578 and was then called Son Pisá. It has 132 perfectly manicured hectares that can be the perfect venue for any event. As a wedding photographer in Mallorca I really enjoy Finca Son Berga as it offers many different spaces. Thanks to Eli's great management all details are well thought out and perfectly organised.
At Eli and Patri's wedding, which had to be postponed for a year due to the Covid, we had the time of our lives. It was a wedding full of emotions and feelings. Thanks to the great lighting I was able to take the famous photograph of them in the arch of the cloister. They had hired Sonia from Eventos mas allá de tus sueños as their wedding planner and she organised the perfect wedding for them. Everything was pure magic and it was a great celebration where we all enjoyed so much.
The best fincas in Mallorca
One of the best parts of doing weddings at Finca Son Berga are the couple photos. After the ceremony I took Eli and Patri to the upper part of the Finca. Being next to the Tramuntana mountains it has amazing views of the mountains. I knew that they don't like forced postures as much as I do. So I made them do all kinds of things and while we were having a great time I took some photos for the memories. They were wearing amazing dresses that were very flattering.
These are some of the best fincas in Mallorca. I could certainly add many more and this year I will even discover some that I don't know, I can't wait to start the season and show you everything.
It is very exciting to be able to share that day with the couples and take some photos to remember. We are very lucky to have these Fincas in Mallorca so well cared for and prepared as an incomparable setting for that great day.
The best fincas in Mallorca